Initial State keeps your waveform data safe, explorable, and shareable, but first you have to supply data to your workspace. Data can come from many sources including files, Initial State-Enabled scopes, and through APIs/SDKs for maximum flexibility. Let's assume you already have an account and are ready to get some data uploaded.  
Upload Data via File
We support a number of files type for getting data into Initial state, including:
| | | | | |
| --- | --- | --- | --- | --- |
|  .csv |        |  Comma Separated Value |        | Supports multiple delimeters, and row/column formatting  |
|  .vsd |   | Value Change Dump |   |   |
|  .asc |   | ASCII |   |   |
|  .wfm |   | Waveform |   | Tektronix special File type for scope waveforms |
|  .tss |   | Tektronix Session Setup |   | Upload a file that includes the scope configuration data |
|  .isf |   | Internal Tektronix File |   | Tektronix special file type for some scope models |
More information on file formats            
Transfer data directly from a 5-Series scope
Data can be automatically uploaded from an oscillioscope that supports Initial State. Initial State has native support for Tektronix 5-Series. Of course, you can get data into our system from any scope using the supported file formats and some type of transfer mechanism like USB, local network/crossover, or GPIB. Do you have a 5-Series scope? Get it set up here. 
Stream from API, SDK, or Integration
Other ways to source data to Initial State include APIs, SDKs, and Integrations. You can use general purpose RESTful APIs or use our SDKs in Python, LabVIEW, NodeJS, C/C++, Java, and more. Check out all the streaming methods here.
---
Try It Now
1. Save the following Sample text to a .csv file on your system.
Create a new file on your computer called sample.csv. Place the text from the sample link below into that file and Save. HINT - Select All on the text by using Crtl+a or Cmd+a 
2. Begin upload of your new .csv to Initial State.
Above the bucket shelf us the button shown to add a file to your workspace. It will reveal the file import parsing configurations. 

3. Configure the CSV parsing
You don't have to change anything here for this sample file, but observe some of the settings. Initial State supports many type of import formats and file types.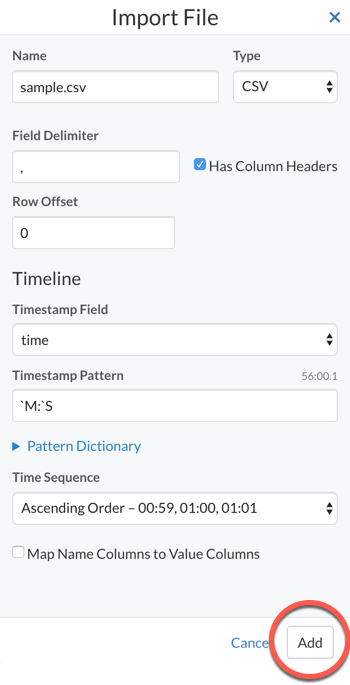 4. Click on the newly created bucket
Click on "sample.csv" in the bucket shelf will reveal the data to begin the next step in getting started which is to explore the visualizations.